About Us
Jazmin is a Indian takeaway in Plymouth. Why don't you try our Chapati or Murgh Methi?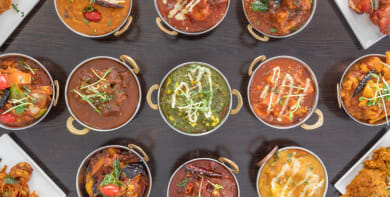 Reviews
72 reviews
zeena
"PERFECT EVERY TIME THE BEST INDIAN TAKEAWAY IN PLYMOUTH THANKS GUYS 5*"
18/07/2021
Mrs
"Delicious as always"
17/07/2021
Katherine
"The food was delivered on time, hot & beauifully cooked, the delivery driver was polite & friendly. Thank you Jazmin."
13/07/2021
Miranda
"Excellent"
11/07/2021
Menu
Hot & Spicy Starter
Chicken thinly sliced, with chopped onions, peppers & green chillies
£4.50
Stuffed Mushrooms
Stuffed with mince meat & spicy
£3.95
Stuffed Peppers Chicken
Stuffed with chicken or vegetables & cooked in the tandoori oven
£3.95
Stuffed Peppers Vegetable
Stuffed with chicken or vegetables & cooked in the tandoori oven
£3.95
Onion Bhajee
Deep fried onion, mixed with spicy gram flour
£2.85
Samosa Meat
Thin pastry stuffed with minced meat or vegetable
£2.75
Samosa Vegetable
Thin pastry stuffed with minced meat or vegetable
£2.75
Kebab Starter Shami
Fried minced lamb with green herbs & spices from the clay oven
£3.85
Kebab Starter Sheek
Fried minced lamb with green herbs & spices from the clay oven
£3.85
Mixed Kebab
Served with chicken tikka, lamb tikka, seekh kebab & onion bhaji
£4.20
Tandoori Platter
Chicken tikka, lamb tikka, seekh kebab, samosa & tandoori chicken
£6.20
Tikka Starter Chicken
Chicken or lamb, diced then marinated in mild spices, then cooked in the tandoori oven
£3.85
Tikka Starter Lamb
Chicken or lamb, diced then marinated in mild spices, then cooked in the tandoori oven
£3.85
Tandoori Chicken Starter
Chicken marinated in exotic spices & yoghurt then cooked in a clay oven
£3.50
Tandoori Garlic Chilli Chicken Starter
£3.75
Chatt Starter Aloo
Chicken or potatoes specially flavoured with lemon juice & chaat masala
£3.85
Chatt Starter Chicken
Chicken or potatoes specially flavoured with lemon juice & chaat masala
£3.85
King Prawn on Puri
Succulent king prawns in a chaat masala sauce, served on a thin pancake
£4.50
King Prawn Butterfly
King prawns fried in clarified butter
£4.50
Chicken Tikka Roll
Barbecued chicken in bread with condiments
£5.95
Lamb Tikka Roll
Barbecued meat in bread with condiments
£5.95
Mixed Roll
Barbecued lamb, chicken & condiments
£5.95
Kebab Roll
Kebab in a bread with condiments
£5.50
Tikka Main Chicken
Diced chicken or lamb roasted on skewers in the tandoor
Mild
£5.95
Tikka Main Lamb
Diced chicken or lamb roasted on skewers in the tandoor
Mild
£5.95
Tandoori Chicken Main
BBQ pieces of chicken from the tandoor in our own marinade
£5.95
Tandoori Garlic Chilli Chicken Main
£7.25
Tandoori King Prawn Main
BBQ king prawns from the clay oven in our own marinade
£10.95
Tandoori Mixed Grill
Served with naan
Diced chicken & lamb tikka, tandoori chicken & seekh kebab
£8.95
Tikka Shashlik Chicken
Pieces of diced chicken tikka or lamb tikka, cooked on skewers with onion & green peppers
£8.50
Tikka Shashlik Lamb
Pieces of diced chicken tikka or lamb tikka, cooked on skewers with onion & green peppers
£8.50
Duck Shashlik
Duck breast, mixed herbs & spices with yoghurt & mustard
£10.95
Tikka Masala Chicken
Pieces of chicken or lamb, tandoor roasted with cream in special sauce
Mild
£7.25
Tikka Masala Lamb
Pieces of chicken or lamb, tandoor roasted with cream in special sauce
Mild
£7.25
Duck Tikka Masala
Pieces of duck, tandoor roasted with cream in special sauce
Mild
£7.95
Moglai Chicken
Tender pieces of chicken or lamb cooked with almond, butter, sugar & garnished with fenugreek leaves & flaked almond
Mild
£7.25
Moglai Lamb
Tender pieces of chicken or lamb cooked with almond, butter, sugar & garnished with fenugreek leaves & flaked almond
Mild
£7.25
Chicken Makhani
BBQ diced chicken in butter & fresh cream with exotic spices
Mild
£7.25
Jalfrezi Chicken
Chicken or lamb pieces grilled with peppers, chillies, tomato & onion
Fairly hot
£7.25
Jalfrezi Lamb
Chicken or lamb pieces grilled with peppers, chillies, tomato & onion
Fairly hot
£7.25
Duck Tikka Jalfrezi
Duck pieces grilled with peppers, chillies, tomato & onion
Fairly hot
£7.25
Shahi Akbary Chicken
Cooked with onions to Jazmin's special recipe
Medium
£7.25
Pasanda Chicken
Pieces of chicken or lamb cooked in fresh cream & special sauce
Mild
£7.25
Pasanda Lamb
Pieces of chicken or lamb cooked in fresh cream & special sauce
Mild
£7.25
Tikka Bhuna Chicken
Chicken or lamb pieces barbecued with tomato fresh herbs & onion
£7.25
Tikka Bhuna Lamb
Chicken or lamb pieces barbecued with tomato fresh herbs & onion
£7.25
Korai Chicken
Chicken or lamb with tomato & green chillies in a special sauce
Medium
£7.25
Korai Lamb
Chicken or lamb with tomato & green chillies in a special sauce
Medium
£7.25
Tandoori King Prawn Masala
BBQ king prawns cooked in cream & butter in oriental spices
Mild
£11.95
Spicy Tiger King Prawns
Cooked with red peppers, onion, green chillies & special sauce
Fairly hot
£11.95
Lemon Chicken
Cooked to a secret recipe using special spices cooked on skewers with onion & green peppers
Sweet & sour
Slightly hot
£7.25
Hari Mirchi Bhuna
Pieces of lamb cooked with spinach, fresh chillies & coriander
£7.50
Rezela Chicken
Tandoori chicken diced off the bone, cooked with onion, green chillies & peppers in a masala sauce
Slightly hot
£7.50
Chilli Masala Chicken
Cooked with green chillies
Hot
£7.25
Chilli Masala Lamb
Cooked with green chillies
Hot
£7.25
Podhina Chicken
Cooked with a touch of garlic, ginger, onions, tomato & fresh mint
Medium
£7.25
Podhina Lamb
Cooked with a touch of garlic, ginger, onions, tomato & fresh mint
Medium
£7.25
Chicken Torkary
Tikka chicken cooked in onions, tomatoes & fresh vegetables with special spices
Touch hot
£6.95
Tandoori Garlic Chilli Masala
Tandoori chicken off the bone with fresh garlic & chillies
Hot
£7.50
Hot & Spicy
Chicken thinly sliced, chopped onions, peppers & green chillies
£6.50
House Special Curry
Chicken with prawn, king prawn & egg in medium hot spice
£9.95
Delhi Korai Chicken
Cooked with fresh ginger, garlic, green peppers & exotic spices with fresh chillies
A touch hot
£7.25
Delhi Korai Lamb
Cooked with fresh ginger, garlic, green peppers & exotic spices with fresh chillies
A touch hot
£7.25
Butter Chicken
Chicken cooked with a creamy mild sauce
£8.25
Kofta Bhuna
Meatballs cooked in medium hot spices
Medium hot
£7.25
Bangladeshi Tilapia Fish Curry
A delicate & colourful dish with a fusion of spices & green chillies adding background- not a strong flavour
£7.95
Lal Zal Murge
Goujons of chicken with fresh red chillies topped with spring onion, chill & coriander. For spicy curry lovers
£7.95
Lamb Aloo Gost
Tender lamb with potato, Bangladeshi shatkora, fresh tomato slices, mixed spicy garnish & fresh ginger
£7.25
Murchi Mass Baza
Tilapia fish fillet, shallow fried with lots of onion & chillies
£7.95
Murge Mathi Chicken
Tender chunks of chicken or lamb, flavoured with fenugreek
£7.95
Murge Mathi Lamb
Tender chunks of chicken or lamb, flavoured with fenugreek
£7.95
Achari Chicken
Bhuna with spicy pickle, a touch of garlic & ginger
Medium
£6.95
Achari Meat
Bhuna with spicy pickle, a touch of garlic & ginger
Medium
£6.95
Murgi Masala
Chicken cooked with minced lamb & egg
£6.95
Jaffron Chicken
Barbecue chicken in garlic & lemon sauce
Medium
£7.95
Garlic Chicken
Chicken cooked with garlic in medium spicy sauce
£6.95
Bangla Murgh Shatkora
Grilled chicken with Bangladeshi lime, medium, a unique taste
£7.25
Naga Duck
Duck breast cooked with onion, tomato, pepper & naga pickle (very hot Bangladeshi chilli)
Full flavoured & hot
£9.95
Curry Chicken Tikka
Medium
£6.50
Kurma Chicken
Cooked with cream & coconut
Very, very mild
£6.50
Kurma Lamb
Cooked with cream & coconut
Very, very mild
£6.50
Kurma Vegetable
Cooked with cream & coconut
Very, very mild
£6.50
Kurma Chicken Tikka
Cooked with cream & coconut
Very, very mild
£7.50
Kurma Lamb Tikka
Cooked with cream & coconut
Very, very mild
£7.50
Madras Chicken
Fairly hot
£5.95
Madras Vegetable
Fairly hot
£5.95
Madras Chicken Tikka
Fairly hot
£6.95
Madras Lamb Tikka
Fairly hot
£6.95
Vindaloo Chicken
Very hot
£6.20
Vindaloo Vegetable
Very hot
£6.20
Vindaloo Chicken Tikka
Very hot
£7.20
Vindaloo Lamb Tikka
Very hot
£7.20
Phall Chicken
Very, very hot
£6.20
Phall Lamb
Very, very hot
£6.20
Phall Vegetable
Very, very hot
£6.20
Phall Lamb Tikka
Very, very hot
£6.95
Phall Chicken Tikka
Very, very hot
£7.20
Bhuna Chicken
With onions, tomatoes & herbs
Medium
£6.20
Bhuna Lamb
With onions, tomatoes & herbs
Medium
£6.20
Bhuna Vegetable
With onions, tomatoes & herbs
Medium
£6.20
Bhuna Lamb Tikka
With onions, tomatoes & herbs
Medium
£6.95
Bhuna Chicken Tikka
With onions, tomatoes & herbs
Medium
£7.20
Bombay Chicken
Cooked with egg & potato
Medium
£6.50
Bombay Lamb
Cooked with egg & potato
Medium
£6.50
Bombay Vegetable
Cooked with egg & potato
Medium
£6.50
Bombay Chicken Tikka
Cooked with egg & potato
Medium
£7.50
Bombay Lamb Tikka
Cooked with egg & potato
Medium
£7.50
Dupiaza Chicken
Cooked with chopped onions
Medium
£6.50
Dupiaza Lamb
Cooked with chopped onions
Medium
£6.50
Dupiaza Vegetable
Cooked with chopped onions
Medium
£6.50
Dupiaza Chicken Tikka
Cooked with chopped onions
Medium
£7.50
Dupiaza Lamb Tikka
Cooked with chopped onions
Medium
£7.50
Malayan Chicken
Cooked with pineapple
Medium
£6.50
Malayan Lamb
Cooked with pineapple
Medium
£6.50
Malayan Vegetable
Cooked with pineapple
Medium
£6.50
Malayan Chicken Tikka
Cooked with pineapple
Medium
£7.50
Malayan Lamb Tikka
Cooked with pineapple
Medium
£7.50
Kashmir Chicken
Cooked with bananas
Mild
£6.50
Kashmir Lamb
Cooked with bananas
Mild
£6.50
Kashmir Vegetable
Cooked with bananas
Mild
£6.50
Kashmir Chicken Tikka
Cooked with bananas
Mild
£7.50
Kashmir Lamb Tikka
Cooked with bananas
Mild
£7.50
Ceylon Chicken
Cooked with coconut
Hot
£6.50
Ceylon Lamb
Cooked with coconut
Hot
£6.50
Ceylon Vegetable
Cooked with coconut
Hot
£6.50
Ceylon Chicken Tikka
Cooked with coconut
Hot
£7.50
Ceylon Lamb Tikka
Cooked with coconut
Hot
£7.50
Rogan Josh Chicken
Cooked with tomatoes
Medium
£6.75
Rogan Josh Lamb
Cooked with tomatoes
Medium
£6.75
Rogan Josh Vegetable
Cooked with tomatoes
Medium
£6.75
Rogan Josh Chicken Tikka
Cooked with tomatoes
Medium
£7.75
Rogan Josh Lamb Tikka
Cooked with tomatoes
Medium
£7.75
Pathia Chicken
With onions, sweet & sour
Fairly hot
£6.50
Pathia Lamb
With onions, sweet & sour
Fairly hot
£6.50
Pathia Vegetable
With onions, sweet & sour
Fairly hot
£6.50
Pathia Chicken Tikka
With onions, sweet & sour
Fairly hot
£7.50
Pathia Lamb Tikka
With onions, sweet & sour
Fairly hot
£7.50
Dhansak Chicken
Cooked with lentils, sweet & sour
Fairly hot
£6.50
Dhansak Lamb
Cooked with lentils, sweet & sour
Fairly hot
£6.50
Dhansak Vegetable
Cooked with lentils, sweet & sour
Fairly hot
£6.50
Dhansak Chicken Tikka
Cooked with lentils, sweet & sour
Fairly hot
£7.50
Dhansak Lamb Tikka
Cooked with lentils, sweet & sour
Fairly hot
£7.50
Sag Chicken Chicken
Medium
Cooked with spinach
£6.95
Sag Chicken Lamb
Medium
Cooked with spinach
£6.95
Sag Chicken Vegetable
Medium
Cooked with spinach
£6.95
Sag Chicken Chicken Tikka
Medium
Cooked with spinach
£7.95
Sag Chicken Lamb Tikka
Medium
Cooked with spinach
£7.95
Sag Gost Chicken
Medium
Cooked with spinach
£6.95
Sag Gost Lamb
Medium
Cooked with spinach
£6.95
Sag Gost Vegetable
Medium
Cooked with spinach
£6.95
Sag Gost Chicken Tikka
Medium
Cooked with spinach
£7.95
Sag Gost Lamb Tikka
Medium
Cooked with spinach
£7.95
Prawn Kurma
Cooked with cream & coconut
Very, very mild
£6.95
Prawn Phall
Very, very hot
£6.25
Prawn Bhuna
With onions, tomatoes & herbs
Medium
£6.50
Bombay Prawn
Cooked with egg & potato
Medium
£6.95
Prawn Dupiaza
Cooked with chopped onions
Medium
£6.95
Malayan Prawn
Cooked with pineapple
Medium
£6.95
Kashmir Prawn
Cooked with bananas
Mild
£6.95
Ceylon Prawn
Cooked with coconut
Hot
£6.25
Prawn Rogan Josh
Cooked with tomatoes
Medium
£6.50
Prawn Pathia
With onions, sweet & sour
Fairly hot
£6.50
Prawn Dhansak
Cooked with lentils, sweet & sour
Fairly hot
£6.50
Prawn Sag
Cooked with spinach
Medium
£7.50
King Prawn Madras
Fairly hot
£8.50
King Prawn Vindaloo
Very hot
£8.95
King Prawn Kurma
With cream & coconut
Very mild
£8.95
King Prawn Bhuna
With onions, tomatoes & herbs
Medium
£8.95
King Prawn Pathia
With onions, sweet & sour
Fairly hot
£9.50
King Prawn Dhansak
With lentils, hot, sweet & sour
Fairly hot
£9.50
King Prawn Sag
With spinach
Medium
£9.50
King Prawn Jalfrezi
With peppers, chillies, tomato & onion
Fairly hot
£9.50
Special Biriani
Cooked with chicken, lamb & king prawn
£10.95
Mixed Vegetable Bhajee
Dry
£3.25
Mixed Vegetable Korma
Mild
£3.25
Sag Aloo
Spinach & potato
£3.50
Tarka Dhaal
Lentils fried with garlic
£3.25
Sag Chana
Spinach & chickpeas
£3.25
Sag Paneer
Spinach & cheese
£3.25
Dhaal Shamba
Lentils & spinach
£3.25
Aloo Gobi
Potato & cauliflower
£3.25
Madras Rice
Spicy with fresh chillies
£2.95
Kurma Rice
With buttered coconut
£2.95
Zinda Rice
In special herbs & secret spices
£2.95
Keema Nan
Spicy with mince meat
£2.85
Stuffed Nan
With vegetables
£2.50
Peshwari Nan
Sweet, almonds & sultanas
£2.50
Tikka Nan
With tikka meat
£2.85
Set Meal For 1
2 x Papadoms
1 x Mango chutney
1 x Tandoori chicken
1 x Chicken jalfrezi OR chicken bhuna
1 x Sag aloo
1 x Pilau rice
1 x Nan
£15.50
Set Meal For 2
2 x Papadoms
1 x Mango chutney
1 x Onion bhajee
1 x Chicken tikka
1 x Chicken tikka massalla
1 x Chicken jalfrezi
2 x Pilau rice
1 x Garlic nan
1 x Bombay aloo
£24.95
Contact Us
Find Us
53 Ebrington Street, Plymouth, PL49AA
We deliver to
PL1, PL2, PL3, PL4, PL5, PL6, PL7, PL9